When you look at the price of gold coins versus gold bars on our website, some of the lowest prices on the internet, you might ask yourself, why are coins generally more expensive?
Customers often ask that question, and there are a few points to consider when deciding where to invest your hard-earned money.
Today we will shed some light on the age-old question and help you make an informed decision.
Alright, let's take a look.
The Key Differences Between Gold Coins and Bars
Sovereign, or government, mints by definition produce gold coins, and private mints fabricate gold bars, generally speaking.
Of course, there are always exceptions to the rule, but the occurrence is so common that one starts to make the association.
These sovereign mints, such as the US Mint or The Royal Mint, produce coins in different finishes, such as Brilliant Uncirculated (BU) or Proof. Standard gold coins are minted with a BU finish as it is the fastest and most cost-effective method—a quick press and out the door. The proof finish has an attractive "mirror" reflection but requires multiple passes to get the look right. Low-mintage collectible gold coins, which carry a higher retail cost, often come in proof finishes.
When browsing gold coins and bars, the first thing anyone notices is the clear difference in shape. Coins are round, and bars are rectangular. We're stating the obvious, but this distinction is a significant contributor to the difference in costs and is one of the reasons most gold bars are cheaper than coins.
Production minting costs for sovereign coins are the main factor why they are more expensive to manufacture than gold bars. The process starts with rolled, flat strips of pure gold metal (or 22-karat gold alloy). Then, a machine punches out gold planchets or "blanks" from the gold strips.
Due to the shape, gold bars are more efficiently cut out of each metal strip. That is to say, gold coins leave behind even more excess scrap material that will need to be remelted and reprocessed. Gold coins also include more intricate designs that require higher quality dies for minting or "pressing" the obverse and reverse sides.
It's also noteworthy that gold bars can be produced through a casting or pouring process. Casting is more common for larger gold bars that weigh over 100 grams (3.215 troy ounces), and cast bars almost always arrive in loose form. Cast bars require fewer steps and costs to fabricate. The casting production process is not generally used for standard, retail production one troy ounce gold bars.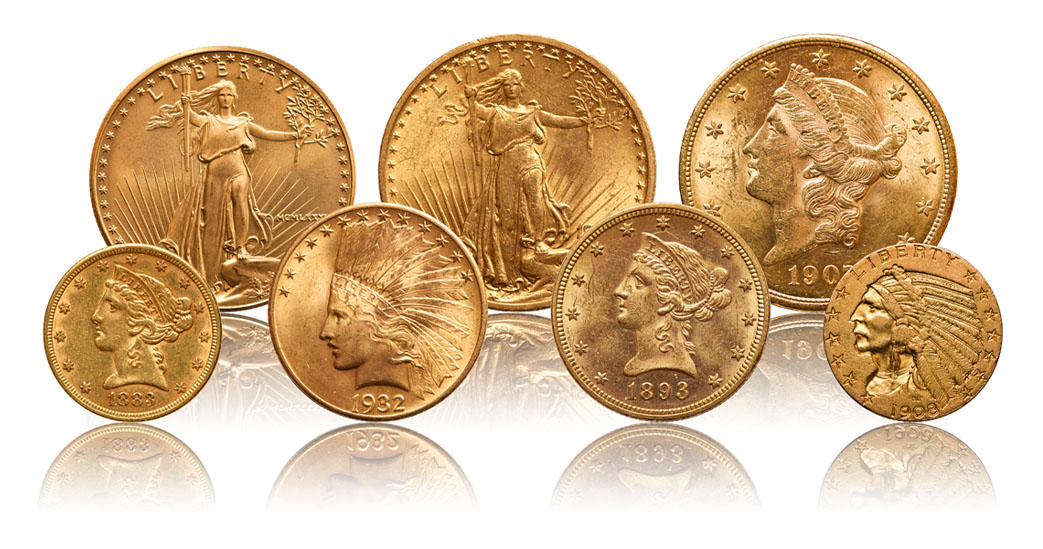 Gold coins are produced exclusively by sovereign mints, are considered legal tender that contains a face value denomination, and are backed by the issuing nation. Of course, a coin's face value is always well below the intrinsic value of the gold bullion content. But a rock-solid guarantee of the gold purity and metal weight does bring many investors peace of mind.
Coin designs from sovereign mints generally remain the same over the years. The only notable change is the year stamped on each coin, but the entire design is sometimes periodically refreshed. Specific years have lower mintages, giving gold bullion coins a collectible appeal. In general, gold coins are highly recognizable and have a broad customer base. Some gold coins even have considerable numismatic charm.
Investors in gold coins do recoup the higher upfront costs when selling, as long as you stick to the strategy of buying your national bullion. Both large and small, Dealers aggressively repurchase US Mint products in any quantity and pay top dollar.
The main advantage a gold bar possesses, and the question posed by this article, is the lower price entry point. Keeping your dollar cost average low has its benefits, and economically priced gold bars can be your secret weapon.
A gold bar is also very straightforward in that you know exactly what you are getting at the time of purchase. All pertinent information, such as manufacturer, weight, metal purity, and a unique serial number, is stamped right on the face.
In most cases, the private mint certifies and guarantees each gold bar's specifications on a printed assay card and then seals it in secure packaging. The carded variety of gold bars stores exceptionally well and keeps your gold "mint fresh."
Important Considerations with Retail Investment Gold
People buy what they know, and gold coins produced by their national mint are usually the most suitable choice when getting started in bullion investments.
What does that mean for you, the investor?
For one, it's wise to deal in the gold products that have the most local buyers. This approach allows for the most liquid market, which is seriously beneficial when selling your gold. At PIMBEX, we always advocate for buying gold products that have the most convenient exit strategy.
Of course, a bullion investor can employ the strategy of stacking as many ounces for as few dollars as possible. This approach to investing in precious metals is perfectly acceptable, and gold bars would be a better fit for achieving your goals.
Gold bars also come in a wider range of sizes versus coins, and opting for larger bars helps lower the average cost per ounce.
At the end of the day, whether your gold is a coin or a bar, there will be a negligible difference in achieving your long-term goals. But certain considerations will help avoid missteps.
If your preference is coins, the best bet is your national mint's standard offering of retail gold products. When pursuing gold bars, it's wise to stick with the most reputable brand names you can find. PIMBEX only sources gold from trusted suppliers and carries the most recognizable brands in the industry.
In our current inflationary economic environment, it's crucial to take deliberate action to protect your savings and fight long-term purchasing power loss. Take a position in trusted, physical gold bullion today!