Peace Silver Dollar VG (Random Year)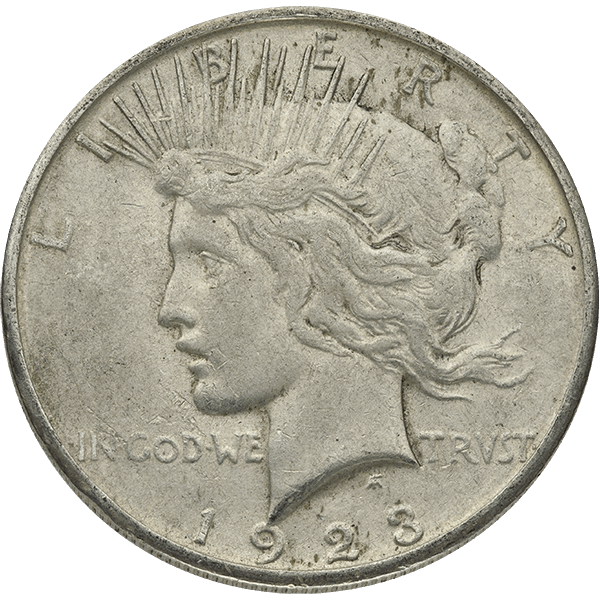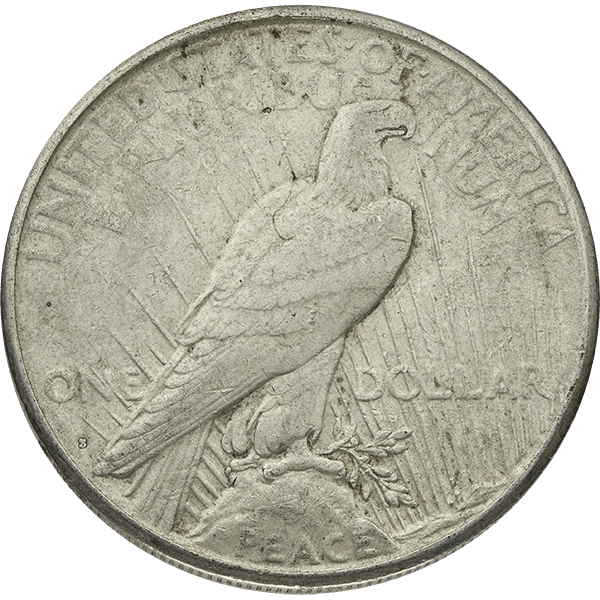 Quantity
ACH/Wire
Credit Card
Specifications
Family:Silver Dollars

MetalSILVER

CategoryCollector Coins

MintUS Mint

CountryAmerican

Weight0.77344 oz

Purity.900 FINE SILVER

AvailabilityIn Stock
Description
In 1918, 270 million Morgan Silver Dollars were melted down and sold to the United Kingdom to help stabilize the British Pound Sterling. The US Mint was legally required to replace the melted Silver Dollars and in 1921 reissued the Morgan Silver Dollar. With minting of the 1921 Morgan Silver Dollar already underway, a competition was held to design a proper replacement for the Silver Dollar. Anthony de Francisci's classic design of Lady Liberty was unanimously selected over submissions from industry icons Victor D. Brenner, Adolf Weinman, and Hermon MacNeil.
The obverse of the Peace Silver Dollar features the left profile of Lady Liberty, and the inscriptions LIBERTY, the coin's year of issue, and IN GOD WE TRUST. The reverse of the Peace Silver Dollar displays an American Bald Eagle perched on a point overlooking the horizon and clutching an olive branch, with the inscriptions UNITED STATES OF AMERICA, E PLURIBUS UNUM, and ONE DOLLAR.
The American Peace Silver Dollar was issued to commemorate the ensuing peacetime after World War I. Each Peach Silver Dollar is dated between 1921 and 1935 and will arrive in Very Good (VG) circulated condition, exhibiting signs of handling and wear. Each Peach Silver Dollar contains 0.7734 troy oz of pure silver.
Order your Peace Silver Dollar VG (Random Year) today!
Product Name
Item added to cart
Unit Price: *Extended Price: *Cart Subtotal:
*Extended Price for Bank Wire or ACH payments only. Other forms of payment will modify the cost per unit.
Volume Pricing Discount
Quantity
ACH/Wire
Credit Card