1 Kilo Silver Bar – Geiger Edelmetalle (Cast)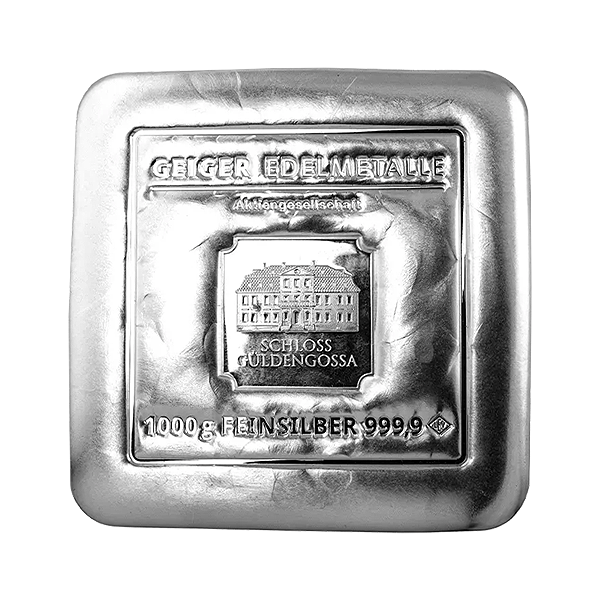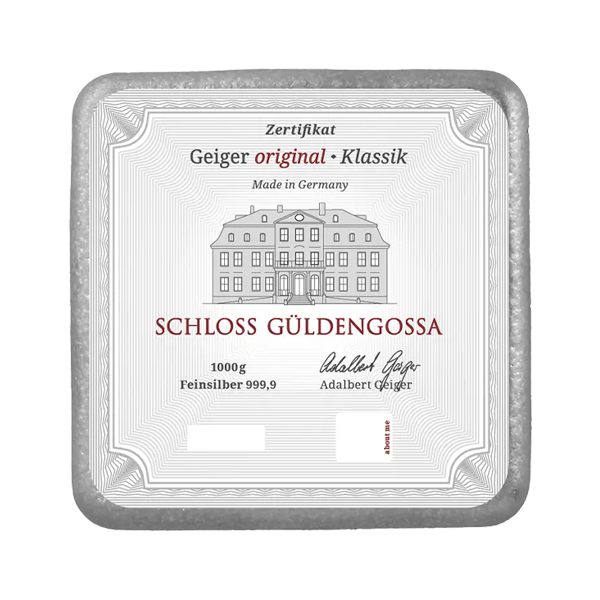 Quantity
ACH/Wire
Credit Card
Specifications
Family:Silver Bars Assorted Weights

MetalSILVER

CategoryBullion Bars

MintGeiger Edelmetalle

CountryGermany

Weight1000 g

Purity.9999 FINE SILVER

AvailabilityIn Stock
Description
Geiger Edelmetalle cast square kilo silver bars offer investors a unique and efficient shape for stacking bulk silver weight.
The obverse side of each bar features the Geiger Edelmetalle logo and an image of historic Castle Schloss Guldengossa, Geiger's official headquarters. Beneath that are 1000g and hallmarks denoting the 99.99% silver purity. These marks are all simultaneously pressed into each bar with a single square stamp. Impressive!
The reverse side of the bar is blank. However, each Geiger cast square silver kilo arrives sealed in plastic with the Certificate of Authenticity (COA) covering the entire back side of the bar. Silver kilos are quickly becoming a go-to weight for larger silver purchases, and these Geiger kilos make an excellent, cost-effective addition to any collection.
Geiger Edelmetalle AG is a precious metals refiner known for its superior product quality and elegantly designed, investment-grade bars. Geiger Edelmetalle is headquartered in Leipzig, Germany, with history dating back to 1218, and today operates multiple branches throughout Germany and Switzerland. Geiger Edelmetalle is an Affiliate Member of the London Bullion Market Association (LBMA).
Order your 1 Kilo Silver Bar – Geiger Edelmetalle (Cast) today!
Product Name
Item added to cart
Unit Price: *Extended Price: *Cart Subtotal:
*Extended Price for Bank Wire or ACH payments only. Other forms of payment will modify the cost per unit.
Volume Pricing Discount
Quantity
ACH/Wire
Credit Card