90% American Silver Coins ($10 FV, Bag) Washington Quarters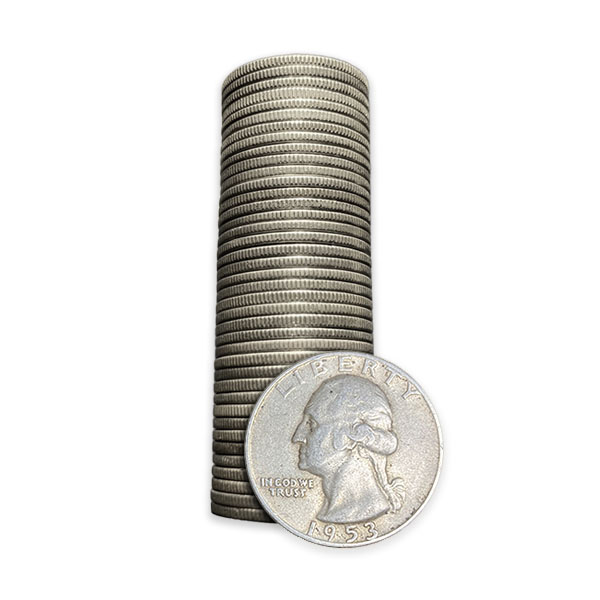 Quantity
ACH/Wire
Credit Card
Specifications
Family:Silver U.S. Coinage 90 %

MetalSILVER

Category90% Silver

MintUS Mint

CountryAmerican

Weight7.15 oz

Purity.900 FINE SILVER

AvailabilityIn Stock
Description
George Washington has been called the "Father of the Nation" and is widely considered the greatest President in US history. After leading the Continental Army against British forces to secure America's sovereignty, he was unanimously elected the first President of the newly formed nation. To commemorate the 200th anniversary of George Washington's birth in 1932, the US Mint released the Washington Quarter to a great deal of fanfare.
The obverse features Washington's portrait and the inscriptions LIBERTY, the coin's year of issue, and IN GOD WE TRUST. The reverse side displays an eagle perched on a cluster of arrows above two olive branches, and the inscriptions UNITED STATES OF AMERICA, E PLURIBUS UNUM, and QUARTER DOLLAR.
The Washington Quarter design by John Flanagan replaced the troubled Standing Liberty Quarter, which was plagued by production issues. The Washington Quarter is still minted today but converted to a Cupro-Nickel alloy following the Coinage Act of 1965.
For each $10 Face Value (FV) ordered, you will receive forty (40) 90% Silver Washington Quarters dated between 1932 and 1964. Each $10 FV of 90% Silver Washington Quarters is equivalent to 7.15 troy ounces of pure silver. The coins arrive in circulated condition and will exhibit signs of handling and wear.
**We process 90% silver coins through high-speed sorting machines in large quantities. While coins ordered from this product SKU are predominantly the Washington design, the Standing Liberty and Barber designs may arrive with your order**
Order 90% American Silver Coins ($10 FV, Bag) Washington Quarters today!
Product Name
Item added to cart
Unit Price: *Extended Price: *Cart Subtotal:
*Extended Price for Bank Wire or ACH payments only. Other forms of payment will modify the cost per unit.
Volume Pricing Discount
Quantity
ACH/Wire
Credit Card