90% American Silver Coins ($1 FV) Kennedy Half Dollars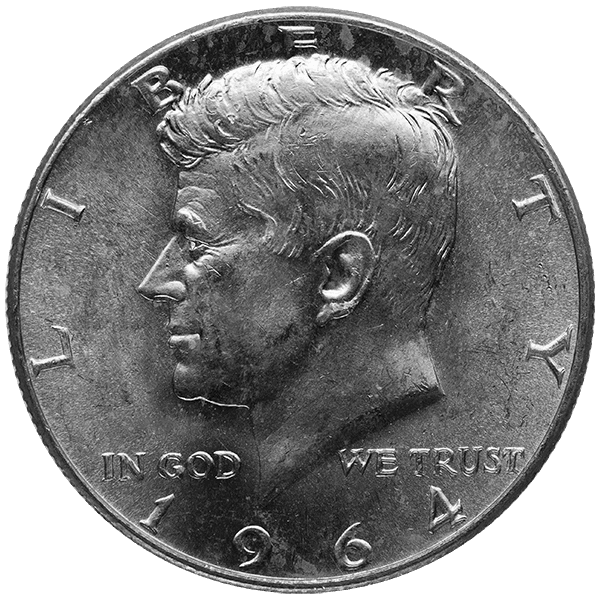 Quantity
ACH/Wire
Credit Card
Specifications
Family:Silver U.S. Coinage 90 %

MetalSILVER

Category90% Silver

MintUS Mint

CountryAmerican

Weight0.715 oz

Purity.900 FINE SILVER

AvailabilityIn Stock
Description
President John F. Kennedy was an enormously popular figure and the first President to bring "celebrity" to the Oval Office. The youngest President ever elected was celebrated for advancing the Apollo Space Program and averting catastrophe during the 1962 Cuban Missile Crisis. Unfortunately, JFK's life was abruptly cut short. Following his assassination in November 1963, JFK's profile was mocked up and placed on the obverse of the redesigned Half Dollar with inscriptions LIBERTY, 1964, and IN GOD WE TRUST. The coin's reverse features the iconic heraldic eagle affixed over the Presidential Seal, with inscriptions UNITED STATES OF AMERICA, E PLURIBUS UNUM, and HALF DOLLAR.
Due to the Coinage Act of 1965, Kennedy Half Dollars were only minted from 90% pure silver for the 1964 issue. A 40% Silver Kennedy Half Dollar was produced from 1965 to 1970, finally converting to a more cost-effective Cupro-Nickel alloy in 1971.
For each $1 FV ordered, you will receive two (2) 90% Silver Coins Kennedy Half Dollars dated 1964. Each $1 FV of 90% Silver Kennedy Half Dollars is equivalent to 0.715 troy oz of pure silver. The coins will arrive in circulated condition and may exhibit signs of handling and wear.
**We process 90% silver coins through high-speed sorting machines in large quantities. While coins ordered from this product SKU are predominantly the Kennedy design, the Walking Liberty and Franklin designs might arrive with your order**
Order 90% American Silver Coins ($1 FV) Kennedy Half Dollars today!
Product Name
Item added to cart
Unit Price: *Extended Price: *Cart Subtotal:
*Extended Price for Bank Wire or ACH payments only. Other forms of payment will modify the cost per unit.
Volume Pricing Discount
Quantity
ACH/Wire
Credit Card