50 Pesos Mexican Gold Coin (Random Year)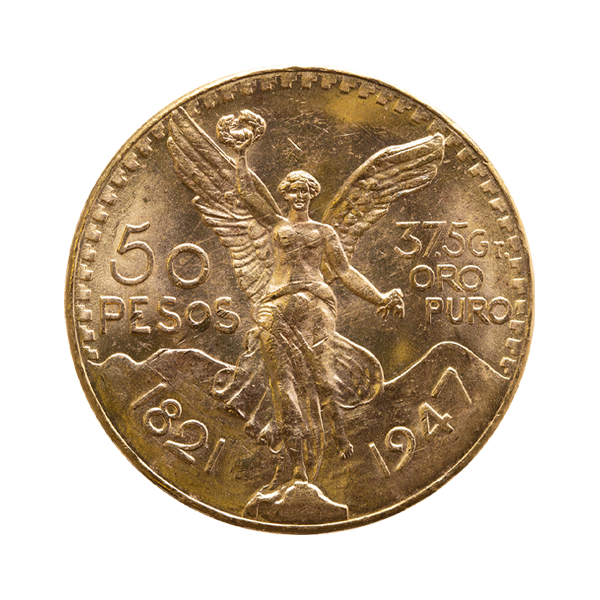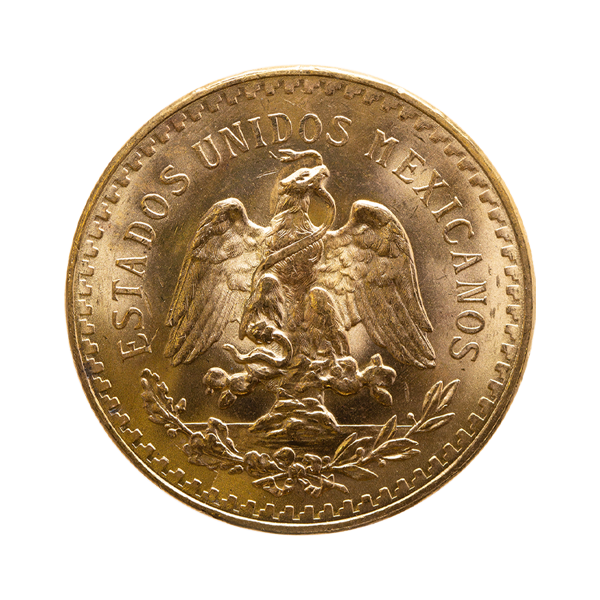 Quantity
ACH/Wire
Credit Card
10 - 19
$2,355.13
$2,505.46
Specifications
Family:Mexican Gold

MetalGOLD

CategoryBullion Coins

MintMexican Mint

CountryMexico

Weight1.2057 oz

Purity.900 FINE GOLD

AvailabilityOut Of Stock
Description
The Mexican Gold 50 Pesos, also referred to as the Centenario, was first issued in 1921 to celebrate Mexico's 100th Anniversary of Independence. The Mexican Mint struck hundreds of thousands of Gold 50 Pesos annually until production ceased in 1931. A surge in gold demand later prompted a rerelease of the brilliant design in 1943, and with that, millions of ounces of exquisite gold coinage poured forth until 1972 when production ceased again.
Gold 50 Pesos minted from 1947 through 1972 bear the 1947 issue year. A special production run in 1996 fed a hungry market nearly 8 million Gold 50 Pesos, all 1947-dated restrikes. Short, sporadic production runs of 1947-dated restrikes throughout the 2000s added another 300,000 to the Gold 50 Pesos tally.
The Gold 50 Pesos obverse features Mexico's National Coat of Arms with a golden eagle perched on a cactus grasping a snake with its beak. The reverse of the Gold 50 Pesos proudly displays the Winged Victory "The Angel of Independence" design, with coin denomination, hallmarks, and year of issue.
Each Gold 50 Pesos has a 90% gold composition and contains 1.2057 troy ounces of pure gold, with the balance comprised of a copper base metal. At a total combined weight of 1.34 troy ounces, each Gold 50 Pesos is a seriously heavy hitter!
We verify and test each Gold 50 Pesos on-site for weight and purity. Secondary market coins will arrive in varied conditions and may exhibit signs of handling and wear. Gold 50 Pesos from this order will be dated between 1921 and 1947.
The Gold 50 Pesos is an exciting encounter, a hefty coin with mesmerizing features and a wonderful feel in hand. The coin exhibits a durable, lustrous surface, and these beautiful examples have stood the test of time.
Order your 50 Pesos Mexican Gold Coin (Random Year) today!
Product Name
Item added to cart
Unit Price: *Extended Price: *Cart Subtotal:
*Extended Price for Bank Wire or ACH payments only. Other forms of payment will modify the cost per unit.
Volume Pricing Discount
Quantity
ACH/Wire
Credit Card