25 Gram Gold Bar – PAMP Fortuna MULTIGRAM+25 (with Assay)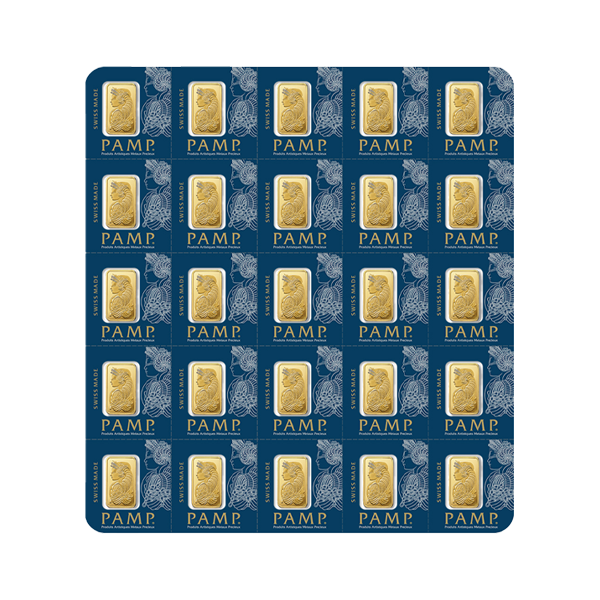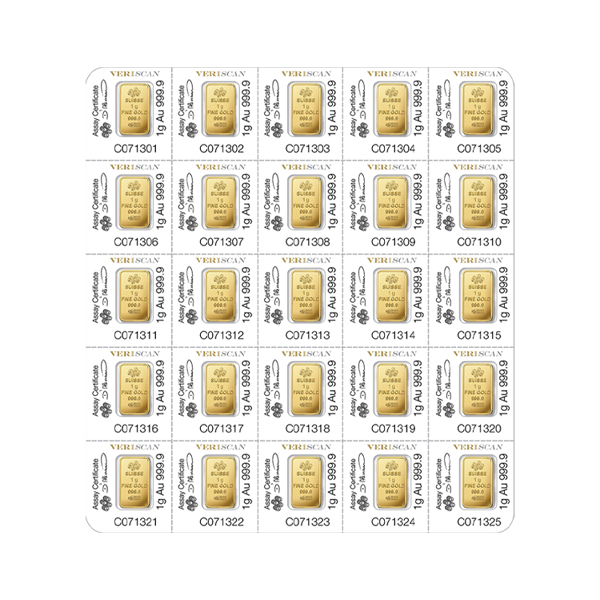 Quantity
ACH/Wire
Credit Card
Specifications
Family:Gold Bars Assorted Weights

MetalGOLD

CategoryBullion Bars

MintPAMP Suisse

CountrySwitzerland

Weight25 g

Purity.9999 FINE GOLD

AvailabilityIn Stock
Description
The PAMP Fortuna line dates back to the company's founding in 1979 and is now offered in a variety of precious metals. Their flagship offering is one of the most trusted retail precious metals products worldwide, and PAMP mints each of these Fortuna bars from 99.99% pure gold. The high-tech production process imparts deep mirror finishes on both sides of this premium piece.
The 25 Gram Gold Bar – PAMP Fortuna MULTIGRAM+25 (with Assay) arrives in CertiPAMPTM packaging as a single card with 25 separately sealed 1-gram bars. Each 1-gram bar is sealed individually in a protective assay card, and perforated edges allow for convenient division of the grams.
The obverse side illustrates the Lady of Fortune holding a cornucopia full of coins. The reverse side contains the PAMP Suisse logo and mint hallmarks. Individual serial numbers are printed on each gram bar's assay card.
Order your 25 Gram Gold Bar – PAMP Fortuna MULTIGRAM+25 (with Assay) today!
Product Name
Item added to cart
Unit Price: *Extended Price: *Cart Subtotal:
*Extended Price for Bank Wire or ACH payments only. Other forms of payment will modify the cost per unit.
Volume Pricing Discount
Quantity
ACH/Wire
Credit Card