2023 1 oz Canadian Silver Maple Leaf Tube BU (25 Coins)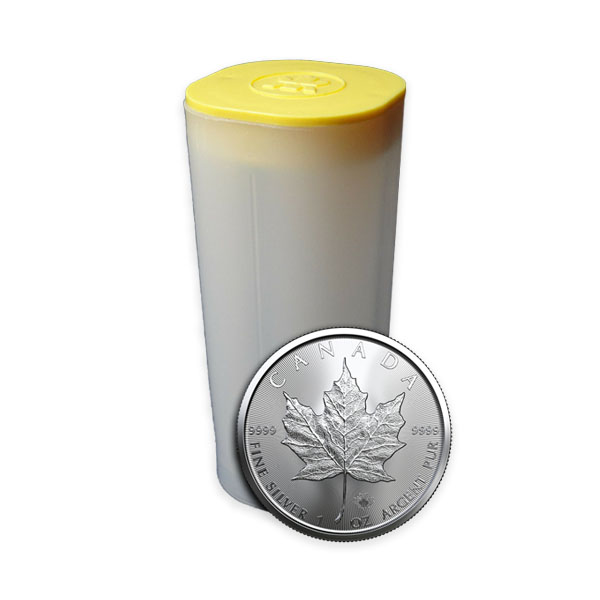 Quantity
ACH/Wire
Credit Card
Specifications
Family:Canadian Silver Maple Leaf

MetalSILVER

CategoryBullion Coins

MintRoyal Canadian Mint

CountryCanadian

Weight25 oz

Purity.9999 FINE SILVER

AvailabilityIn Stock
Description
The Silver Maple Leaf was first introduced by the Royal Canadian Mint (RCM) in 1988 and has become an exceedingly desirable choice for silver bullion investors. Each Silver Maple Leaf is minted from 99.99% pure silver – the highest purity for investment-grade silver bullion coins – and the popular investment now includes enhanced security features to prevent counterfeiting.
The 2023 Silver Maple Leaf features a special privy mark on the obverse honoring the late Queen Elizabeth II. The privy mark denotes her official reign from 1952 through 2022. The Royal Canadian Mint will produce the 2023 Silver Maple Leaf with this coin obverse until switching to a portrait of King Charles III sometime during 2023.
BULLION DNATM technology uses laser mark micro-engraving to etch unique maple leaf privy marks on each silver bullion coin. These privy markings correlate to an official RCM database that can instantly verify any Silver Maple Leaf's authenticity. In addition, the RCM uses precision-machined dies to strike sharp radial lines on both the obverse and reverse of each bullion coin, leaving it with an exclusive pattern distinct to the Silver Maple Leaf.
New since 2018, MINTSHIELDTM is a breakthrough coin technology that reduces the likelihood of unwanted surface tarnish such as "milk spots." RCM takes minting to the next level with this one-of-a-kind process that removes the possibility of rogue surface contaminants causing any discoloration down the road.
The Silver Maple Leaf's reverse displays Walter Ott's beautifully detailed maple leaf, a widely recognized national symbol of Canada dating back several centuries. And for the final time in 2023, the obverse features the late Queen Elizabeth II's side portrait along with the government-backed denomination and year of issue.
Each RCM tube contains twenty-five 2023 1 oz Canadian Silver Maple Leaf's BU.
Order your 2023 1 oz Canadian Silver Maple Leaf Tube BU (25 Coins) today!
Product Name
Item added to cart
Unit Price: *Extended Price: *Cart Subtotal:
*Extended Price for Bank Wire or ACH payments only. Other forms of payment will modify the cost per unit.
Volume Pricing Discount
Quantity
ACH/Wire
Credit Card