2023 1 oz American Silver Eagle Tube BU (20 Coins)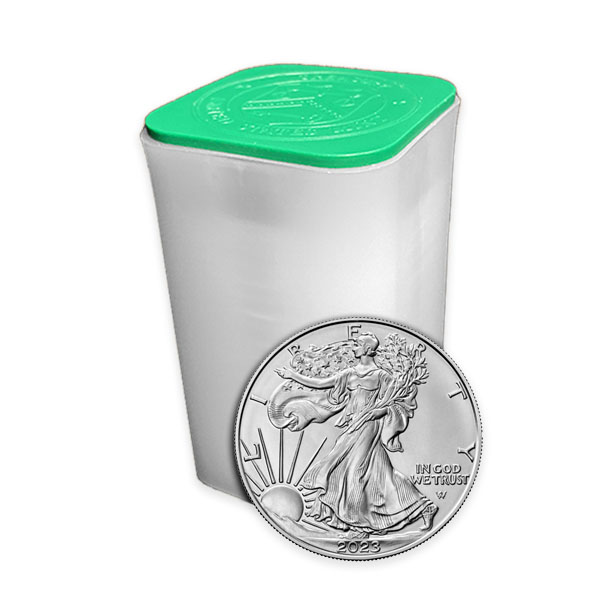 Quantity
ACH/Wire
Credit Card
Specifications
Family:American Silver Eagle

MetalSILVER

CategoryBullion Coins

MintUS Mint

CountryAmerican

Weight20 oz

Purity.999 FINE SILVER

AvailabilityIn Stock
Description
In the world of physical bullion, the American Silver Eagle sets the standard for investment-grade silver coins and is a beloved staple for countless retail and institutional investors. Since 1986, the US Mint has issued over 500 million American Silver Eagles in Brilliant Uncirculated (BU) condition alone, with millions more in the Proof and Burnished finishes.
The US Mint holds itself to the highest standards of production and the US Government federally guarantees the weight and purity of each American Silver Eagle. Public faith in the popular American Silver Eagle accounts for its near-universal acceptance, with investor demand effortlessly consuming the 30 to 40 million annual mintages of the past decade.
The 2023 American Silver Eagle's obverse features the refreshed historic Walking Liberty Half Dollar design, now more accurate to the original Adolph A. Weinman design minted from 1916 to 1947. Weinman's initials are stamped directly below the motto IN GOD WE TRUST.
The original reverse, John Mercanti's heraldic eagle design, has been replaced by a new Emily Damstra design that features a descending American Bald Eagle grasping an oak branch in its talons. Inscribed around the reverse's perimeter is the coin's 1 oz metal weight, the term "FINE SILVER," indicating the 99.9% pure silver content, and the term "ONE DOLLAR," denoting it as US legal tender.
Another distinguishing feature of the 2023 American Silver Eagle is an innovative security element designed to combat counterfeiting. You'll notice the coin is intentionally missing a reed on the coin's edge at the 3 o'clock position if looking from the obverse side. This position has changed position with each annual release and we can only speculate where it will land next.
American Silver Eagles are generally struck at the West Point Mint; however, the San Francisco Mint and the Philadelphia Mint occasionally supplement production. No mintage caps exist on American Silver Eagle coins, and annual mintage numbers are demand-driven.
Each US Mint tube contains twenty 2023 1 oz American Silver Eagles BU.
Order your 2023 1 oz American Silver Eagle Tube BU (20 Coins) today!
Product Name
Item added to cart
Unit Price: *Extended Price: *Cart Subtotal:
*Extended Price for Bank Wire or ACH payments only. Other forms of payment will modify the cost per unit.
Volume Pricing Discount
Quantity
ACH/Wire
Credit Card