¼ oz American Gold Eagle Coin (Random Year)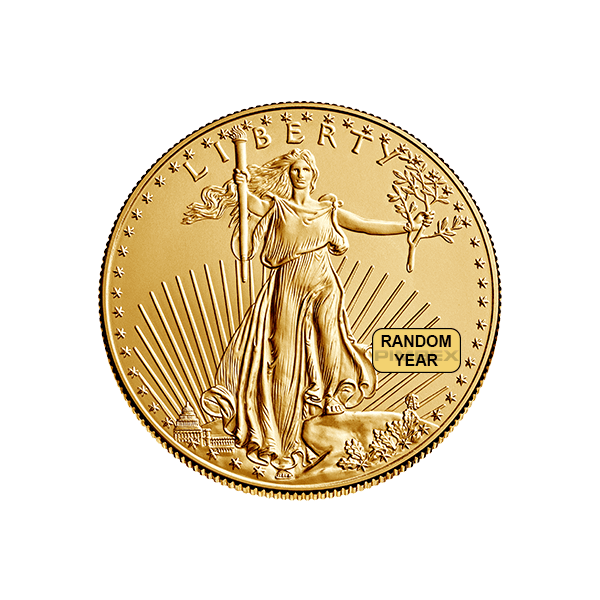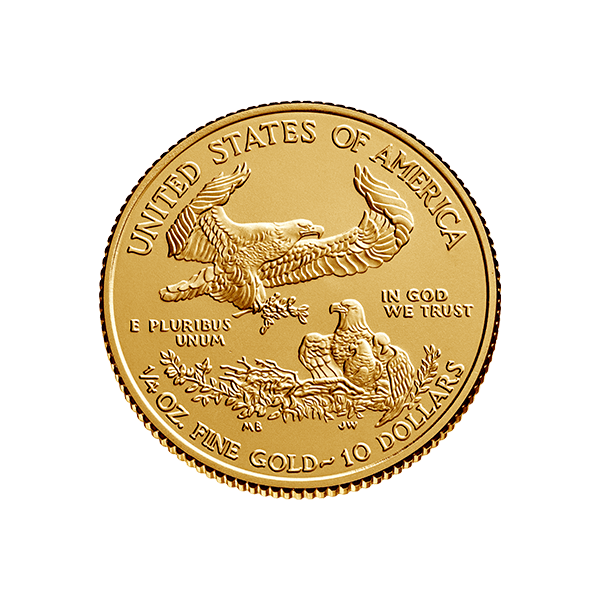 Quantity
ACH/Wire
Credit Card
Specifications
Family:American Gold Eagle

MetalGOLD

CategoryBullion Coins

MintUS Mint

CountryAmerican

Weight1/4 oz

Purity.9167 FINE GOLD

AvailabilityIn Stock
Description
The American Gold Eagle is the premier gold bullion coin for serious investors and precious metals hobbyists alike. American Gold Eagles garner worldwide recognition and are the market leader in gold bullion investments. As an investment-grade gold bullion coin, the American Gold Eagle is a top choice.
Congress passed the Bullion Act of 1985, which spawned the next era of US bullion production. In 1986, the US Mint commenced striking American Gold Eagles from 22-karat gold that is sourced directly from US mines, a strict legal requirement. The 22-karat gold content creates a more durable coin surface when compared with the pure gold variety. This "Crown Gold" alloy exhibits a rich, golden tone and brilliant luster. Each American Gold Eagle contains exactly 1/4 troy ounces of pure gold, but with an alloy blend of 91.67% gold, 5.33% copper, and 3.0% silver, the total coin weight reaches 0.2727 troy ounces (8.48 grams).
The American Gold Eagle's obverse features an Augustus Saint-Gaudens design borrowed from the $20 Double Eagle gold coin, minted from 1907 to 1933. This depiction of Lady Liberty in stride has become one of the most iconic coin designs in US history. The coin's reverse depicts its namesake, a golden eagle flying over the home nest, an olive branch in tow, shielding his family below.
The face value of each American Gold Eagle is backed by the federal government and is offered in 1 oz ($50), ½ oz ($25), ¼ oz ($10), and 1/10 oz ($5) denominations. In addition, the weight, content, and purity of each American Gold Eagle are federally guaranteed.
We verify and test each ¼ oz American Gold Eagle Coin (Random Year) on-site for weight and purity. Secondary market coins will arrive in varied conditions and may exhibit signs of handling and wear. Coins from this order will be chosen from Random Dates.
Order your ¼ oz American Gold Eagle Coin (Random Year) today!
Product Name
Item added to cart
Unit Price: *Extended Price: *Cart Subtotal:
*Extended Price for Bank Wire or ACH payments only. Other forms of payment will modify the cost per unit.
Volume Pricing Discount
Quantity
ACH/Wire
Credit Card