2023 1 oz American Gold Eagle Coin BU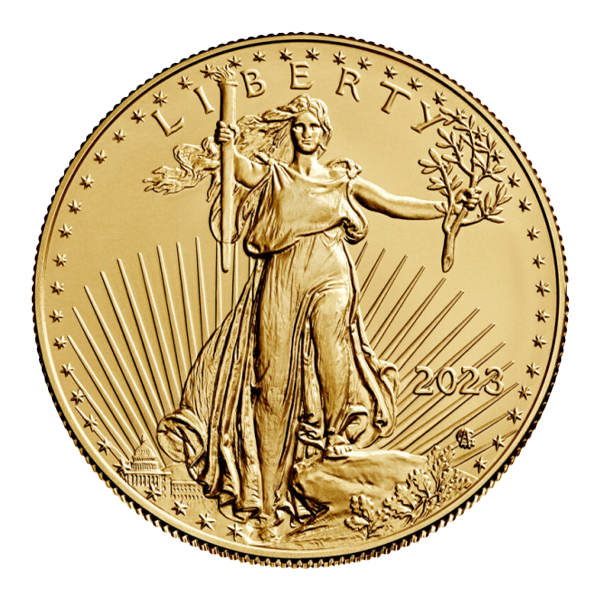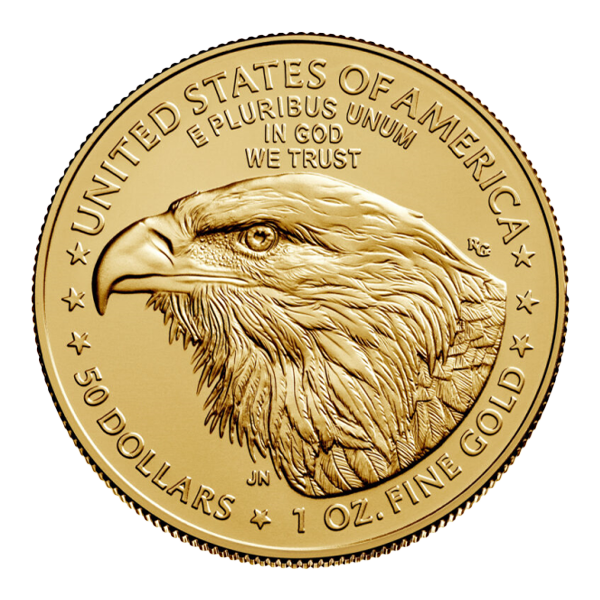 Quantity
ACH/Wire
Credit Card
10 - 19
$2,139.64
$2,276.21
Specifications
Family:American Gold Eagle

MetalGOLD

CategoryBullion Coins

MintUS Mint

CountryAmerican

Weight1 oz

Purity.9167 FINE GOLD

AvailabilityIn Stock
Description
The US Mint's Eagle Coin Program produces some of today's most widely recognizable and trusted gold bullion products. At the center of it all is the 1 oz American Gold Eagle which has served as the flagship coin since the program's inception in 1986. And with a mintage of over 20 million coins to date, the 1 oz American Gold Eagle has become an industry standard around which many investors fashion their entire metals portfolio.
The 2023 American Gold Eagle's obverse features the refreshed Augustus Saint-Gaudens design borrowed from the $20 Double Eagle Gold coin, originally minted from 1907 to 1933. This portrayal of Lady Liberty in stride has become one of US history's most iconic coin designs. The 2023 American Gold Eagle reverse features the new Jennie Norris design. This close-cropped and eye-catching profile shot of an American Bald Eagle displays incredible detail and is sure to impress for years to come.
Another distinguishing feature of the 2023 American Gold Eagle is an innovative security element designed to combat counterfeiting. You'll notice the coin is intentionally missing a reed on the coin's edge at the 3 o'clock position if looking from the obverse side.
Since its inception, each American Gold Eagle has been struck with 22-karat gold sourced directly from US mines, a strict legal requirement. The 22-karat gold content creates a more durable coin surface when compared with the .999 fine gold variety. This "Crown Gold" alloy exhibits a rich, golden tone and brilliant luster. The American Gold Eagle contains precisely 1 troy oz of 99.9% pure gold, but with an alloy blend of 91.67% gold, 5.33% copper, and 3.0% silver, the total coin weight reaches 1.0909 troy oz (33.93 grams).
The face value of each American Gold Eagle is backed by the US Federal Government and is offered in 1 oz ($50), ½ oz ($25), ¼ oz ($10), and 1/10 oz ($5) denominations. In addition, the weight, content, and purity of each American Gold Eagle are federally guaranteed. These new issue American Gold Eagles arrive in Brilliant Uncirculated (BU) condition.
The 2023 1 oz American Gold Eagle Coin BU can be ordered as single 1 oz coins, in mint tubes of 20 coins, and Monster Boxes of 500 coins.
Order your 2023 1 oz American Gold Eagle Coin BU today!
Product Name
Item added to cart
Unit Price: *Extended Price: *Cart Subtotal:
*Extended Price for Bank Wire or ACH payments only. Other forms of payment will modify the cost per unit.
Volume Pricing Discount
Quantity
ACH/Wire
Credit Card