2022 Cook Islands 5 oz Leaning Tower of Pisa Antique Silver Coin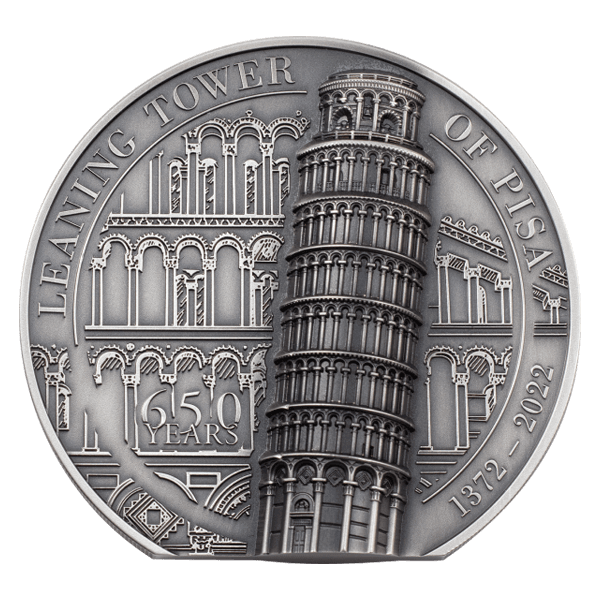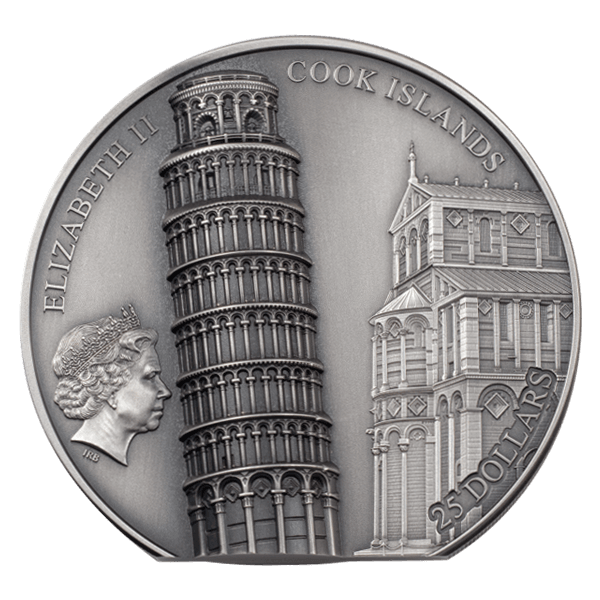 Quantity
ACH/Wire
Credit Card
Specifications
Family:Collectible Silver

MetalSILVER

CategoryCollector Coins

MintCIT

CountryLiechtenstein

Weight5 oz

Purity.999 FINE SILVER

AvailabilityIn Stock
Description
Construction of the famous Leaning Tower of Pisa (UNESCO World Heritage Site) began in 1173 but, due to endless setbacks, took nearly two centuries to complete. This 2022 release commemorates the 650th anniversary of the tower's completion.
CIT utilized its proprietary smartminting® technology to create the ultra-high relief surfaces of the life-like Leaning Tower. Each coin has a dark, antique finish highlighting the incredible details. The modern architectural wonder almost appears three-dimensional in how it rises off the coin's surface.
A flat surface along the 6 o'clock edge allows the coin to stand vertically on its edge. This unique feature provides a beautiful display for both sides of this magnificent piece.
The reverse side features the front side of the tower, a three-dimensional element. There's an inlaid mark stating 650 YEARS and zoomed-in details of the tower arches. The words LEANING TOWER OF PISA and 1372 – 2022 are stamped around the rim.
The obverse side displays the other side of the tower, which is perfectly aligned opposite the other three-dimensional element. A regent profile shot of Queen Elizabeth II and the Pisa Cathedral is illustrated in the field. 2022, 25 DOLLARS, and COOK ISLANDS are stamped around the rim. The Cook Islands back this silver coin as $25 currency.
Each ultra-high relief coin arrives in protective encapsulation with a custom display case and Certificate of Authenticity (COA).
Mintage is limited to 650 coins.
Order your 2022 Cook Islands 5 oz Leaning Tower of Pisa Antique Silver Coin today!
Product Name
Item added to cart
Unit Price: *Extended Price: *Cart Subtotal:
*Extended Price for Bank Wire or ACH payments only. Other forms of payment will modify the cost per unit.
Volume Pricing Discount
Quantity
ACH/Wire
Credit Card