2022 Isle of Man 2 oz One Noble Silver Piedfort Proof Coin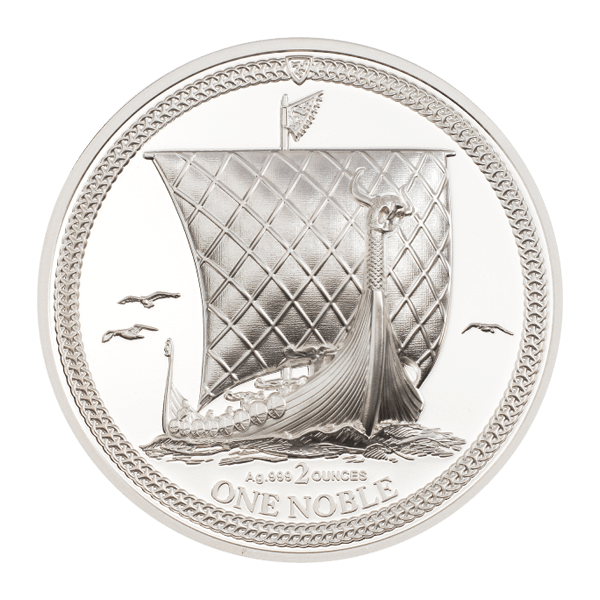 Quantity
ACH/Wire
Credit Card
Specifications
Family:Collectible Silver

MetalSILVER

CategoryCollector Coins

MintCIT

CountryLiechtenstein

Weight2 oz

Purity.999 FINE SILVER

AvailabilityOut Of Stock
Description
The Isle of Man (Manx) first issued the modern Noble in 1983 as a platinum bullion investment coin. Since then, the coin has been sporadically produced in gold, silver, and platinum versions.
CIT utilized their proprietary smartminting® technology to create the ultra-high relief surfaces on this thick, 2 troy ounce piedfort style coin. CIT also minted a series of gold and silver Manx Nobles in 2020.
The reverse side features a pronounced Viking ship at sail, with a Viking pattern around the rim with the Isle of Man Coat of Arms at the top. The field exhibits a proof finish.
The obverse side includes a regent profile shot of Queen Elizabeth II surrounded by 2022 and ISLE OF MAN. Manx Noble's do not carry a traditional face value like other sovereign coinage but is government-backed for its precious metal content.
Each ultra-high relief coin arrives in protective encapsulation with a custom display case and Certificate of Authenticity (COA).
Mintage is limited to 999 coins.
Order your 2022 Isle of Man 2 oz One Noble Silver Piedfort Proof Coin today!
Product Name
Item added to cart
Unit Price: *Extended Price: *Cart Subtotal:
*Extended Price for Bank Wire or ACH payments only. Other forms of payment will modify the cost per unit.
Volume Pricing Discount
Quantity
ACH/Wire
Credit Card