2022 1 oz South African Gold Big Five Elephant Coin BU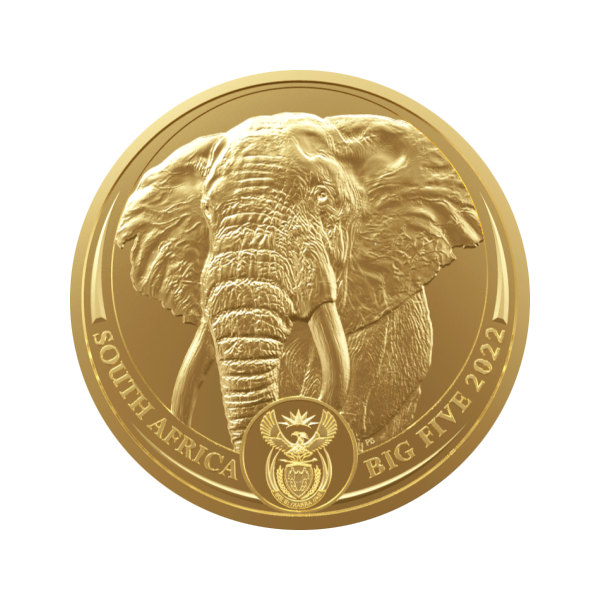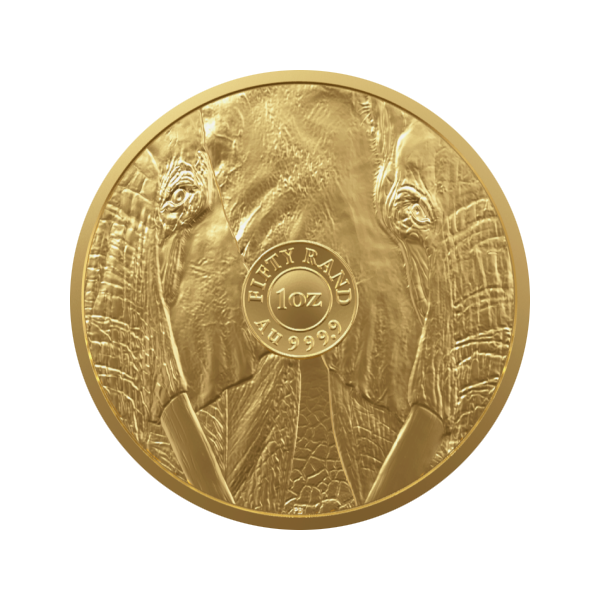 Quantity
ACH/Wire
Credit Card
Specifications
Family:Gold Krugerrand

MetalGOLD

CategoryBullion Coins

MintSouth African Mint

CountrySouth Africa

Weight1 oz

Purity.9999 FINE GOLD

AvailabilityIn Stock
Description
The South African Mint continues its Big Five Series with this artistic 1 oz gold coin showcasing the majestic African elephant. Elephants (Loxodonta) have inhabited the African continent for millennia, and the African bush elephant, the species depicted, are the largest known land animal.
The coin's obverse displays a highly detailed, forward-facing shot of an African elephant. The South African Coat of Arms is included beneath the elephant's tusks and the words SOUTH AFRICA and BIG FIVE 2022.
The coin's reverse features a circular group of markings, FIFTY RAND, 1oz, and Au 999.9. These markings are flanked by a close-up shot of two African elephants.
This coin is comprised of 1 troy ounce of 99.99% pure gold and is backed by the South African government for 50 Rand. This coin makes an excellent collector's piece, still attainable at investment bullion prices.
The Big Five Elephant coin perfectly complements the South African Mint's long-standing flagship coin, the 22-karat Gold Krugerrand. It will be exciting to follow this new series, which is set to include the "big five" game animals native to the African continent.
Order your 2022 1 oz South African Gold Big Five Elephant Coin BU today!
Product Name
Item added to cart
Unit Price: *Extended Price: *Cart Subtotal:
*Extended Price for Bank Wire or ACH payments only. Other forms of payment will modify the cost per unit.
Volume Pricing Discount
Quantity
ACH/Wire
Credit Card