2021 Malta 2 oz Knights of the Past Silver Coin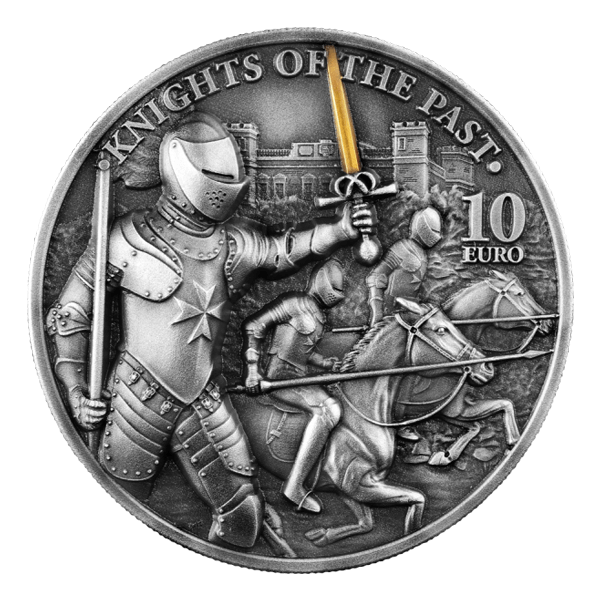 Quantity
ACH/Wire
Credit Card
Specifications
Family:Collectible Silver

MetalSILVER

CategoryCollector Coins

MintGermania Mint

CountryPoland

Weight2 oz

Purity.9999 FINE SILVER

AvailabilityOut Of Stock
Description
The Knights of the Past silver coin is a stunning high relief commemorative, released through a collaboration between the Germania Mint and the Central Bank of Malta. The depth of relief on the coin's obverse is simply astonishing, and the antique finish helps accentuate every detail. This coin is the first edition in the Knights of the Past series and sets the bar high for the upcoming releases.
The Order of Malta is an order of knights dating back nearly a millennium with the establishment of the Knights Hospitaller circa 1099. Founded with heavy roots in the Crusades, the Order became known for its selfless service to others around Jerusalem and beyond. The knights eventually landed on the island of Malta in the early 16th century, from where they still serve today. The Order of Malta has standing on the modern world stage and maintains diplomatic relationships with over 100 other sovereign states.
The obverse features a Maltese knight entering battle wielding a gilded sword. Mounted cavalry and the famous Verdala Palace fill out the background, with KNIGHTS OF THE PAST written at the top and 10 EURO stamped on the right. The Central Bank of Malta backs each coin for 10 Euros.
The reverse side shows a knight holding a shield with the Coat of Arms of the Central Bank of Malta. 2021, MALTA, and 2 oz AG 999.9 markings are stamped around the perimeter.
Each coin arrives in protective encapsulation along with an acrylic glass display case and Certificate of Authenticity (COA).
A unique serial number is engraved on the coin's edge at the 6 o'clock position of the obverse side. Mintage is limited to 999 coins.
Order your 2021 Malta 2 oz Knights of the Past Silver Coin today!
Product Name
Item added to cart
Unit Price: *Extended Price: *Cart Subtotal:
*Extended Price for Bank Wire or ACH payments only. Other forms of payment will modify the cost per unit.
Volume Pricing Discount
Quantity
ACH/Wire
Credit Card