20 Franc Swiss Gold Coin - Helvetia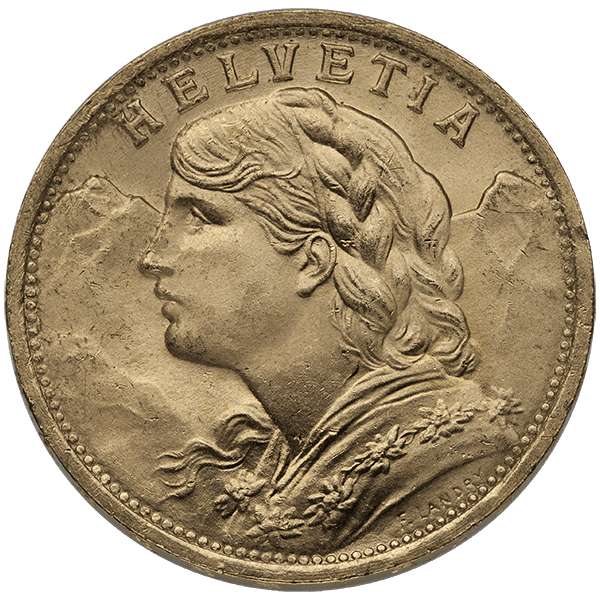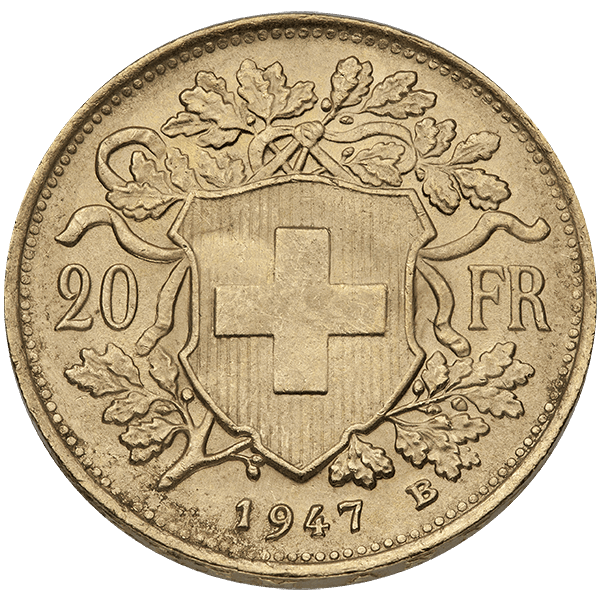 Quantity
ACH/Wire
Credit Card
Specifications
Family:World Gold

MetalGOLD

CategoryBullion Coins

MintSwissmint (Bern)

CountrySwitzerland

Weight0.1867 oz

Purity.900 FINE GOLD

AvailabilityIn Stock
Description
Minted from 1897 to 1935 and again in 1947 & 1949, the 20 Franc Swiss Gold Coin is Switzerland's counterpart to the widely recognized French currency from that era. The Swiss 20 Franc is a durable 90% gold coin containing .1867 troy oz of pure gold. Circulated examples have held up well, and today the Swiss 20 Franc provides a low premium option for acquiring fractional gold bullion.
The obverse side features the profile depiction of Helvetia, the female personification of Switzerland, with the inscription HELVETIA above and the Swiss Alps in the background. The reverse displays the Swiss Coat of Arms surrounded by oak leaves with the 20 FR denomination and year inscriptions.
These Swiss 20 Francs are sourced from the secondary market and arrive in a protective coin flip, and each coin's year and condition will vary. We verify and test each Swiss 20 Franc on-site and guarantee for weight and purity.
Order your 20 Franc Swiss Gold Coin - Helvetia today!
Product Name
Item added to cart
Unit Price: *Extended Price: *Cart Subtotal:
*Extended Price for Bank Wire or ACH payments only. Other forms of payment will modify the cost per unit.
Volume Pricing Discount
Quantity
ACH/Wire
Credit Card