100 oz Silver Bar – Engelhard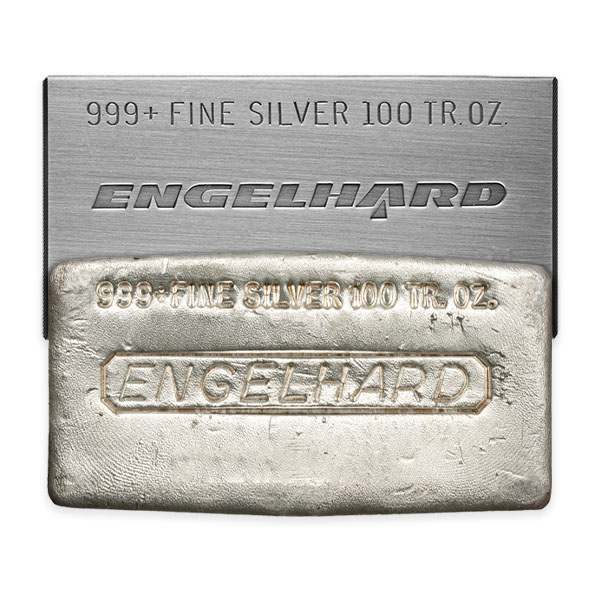 Quantity
ACH/Wire
Credit Card
Specifications
Family:Silver Bars 100 oz

MetalSILVER

CategoryBullion Bars

MintEngelhard

CountryAmerican

Weight100 oz

Purity.999 FINE SILVER

AvailabilityIn Stock
Description
Vintage 100 oz silver bars from Engelhard offer stackers an exciting way to add some collector's appeal to their large-bar silver holdings at a seriously reasonable price.
In the decades surrounding the original 1980 silver squeeze, Engelhard produced 100 oz silver bars using just about every manufacturing technique available, including machine pouring, casting, and extrusion. Each variety has its own character and appeal, and at 6.8 pounds of pure silver, leaves a strong impression in hand. Engelhard's retail silver arm ceased production in 1988, and its products have become highly sought after by discerning individuals who appreciate the fine craftsmanship of the now defunct industry titan.
The obverse side of each bar includes a large ENGELHARD logo, hallmark denoting the 999+ FINE SILVER composition, and 100 TR. OZ. total weight. Bars are typically assigned a serial number, which collectors also use to determine overall scarcity.
Silver bars from this product SKU are selected from available inventory and will be one of the 100 oz bar varieties mentioned above. These bars were long considered generic, investment-grade bullion and will arrive in varying secondary-market condition.
Engelhard Corporation was founded in 1902 and, at one point, became the world's largest precious metals refiner. Over its history, Engelhard produced millions of gold, silver, platinum, and palladium bullion pieces, of which the surviving specimens still trade hands daily on the secondary market. Engelhard shuttered its precious metals line in the late 1980s and was wholly acquired by German chemicals company BASF in 2006.
These bars represent a part of bullion history and make a fantastic addition to any collection.
Order your 100 oz Silver Bar – Engelhard today!
Product Name
Item added to cart
Unit Price: *Extended Price: *Cart Subtotal:
*Extended Price for Bank Wire or ACH payments only. Other forms of payment will modify the cost per unit.
Volume Pricing Discount
Quantity
ACH/Wire
Credit Card