10 Pesos Mexican Gold Coin (Random Year)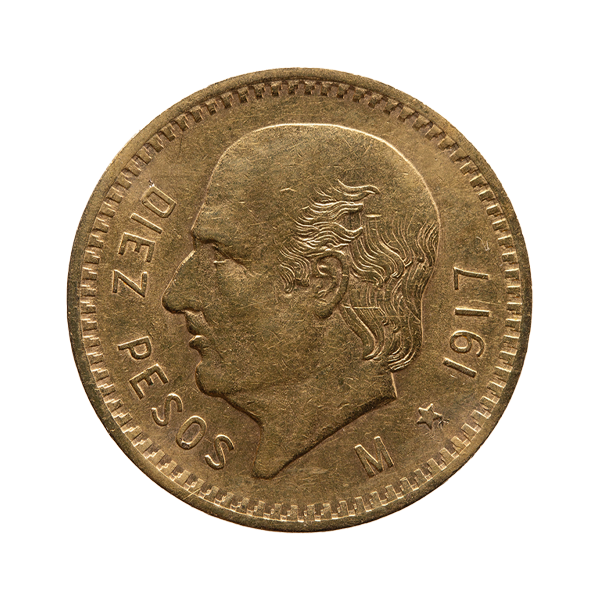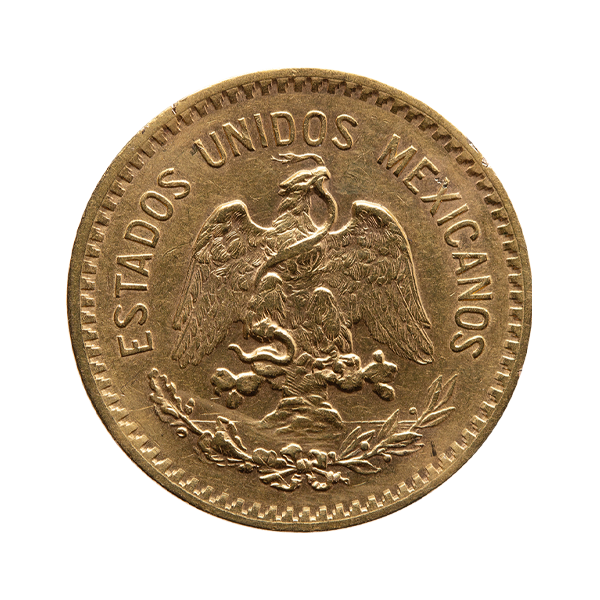 Quantity
ACH/Wire
Credit Card
Specifications
Family:Mexican Gold

MetalGOLD

CategoryBullion Coins

MintMexican Mint

CountryMexico

Weight0.2411 oz

Purity.900 FINE GOLD

AvailabilityIn Stock
Description
From 1905 to 1920 (and again in 1959), the Mexican Mint released 8.2 million Gold 10 Pesos into circulation. Like United States Pre-1933 gold coins, vintage Mexican gold has developed a religious following for what it represents, gold as money.
Recently, gold pesos have been especially difficult to keep on hand, and the fractional variety has experienced an unprecedented explosion in demand. People seek gold bullion from trusted world mints that offer excellent eye appeal, and vintage Mexican gold has it all.
Vintage gold pesos are minted from a 90% gold alloy (balance is copper base metal) and are as durable as they are beautiful. We appreciate how Gold 10 Pesos maintain their mint luster better than most other government-issued vintage gold coinage. Each Gold 10 Pesos contains 0.2411 troy ounces of pure gold.
The Gold 10 Pesos obverse features Mexico's National Coat of Arms with a golden eagle perched on a cactus grasping a snake with its beak. The reverse of the Gold 10 Pesos illustrates the profile bust of Miguel Hidalgo, a leader in the war for independence and recognized as the Father of Mexico. DIEZ PESOS, year of issue, and mint mark are stamped around the rim.
We verify and test each Gold 10 Pesos on-site for weight and purity. Secondary market coins will arrive in varied conditions and may exhibit signs of handling and wear. Gold 10 Pesos from this order will be dated between 1905 and 1920, and also 1959.
Order your 10 Pesos Mexican Gold Coin (Random Year) today!
Product Name
Item added to cart
Unit Price: *Extended Price: *Cart Subtotal:
*Extended Price for Bank Wire or ACH payments only. Other forms of payment will modify the cost per unit.
Volume Pricing Discount
Quantity
ACH/Wire
Credit Card