10 oz Silver Bar – The Royal Celebration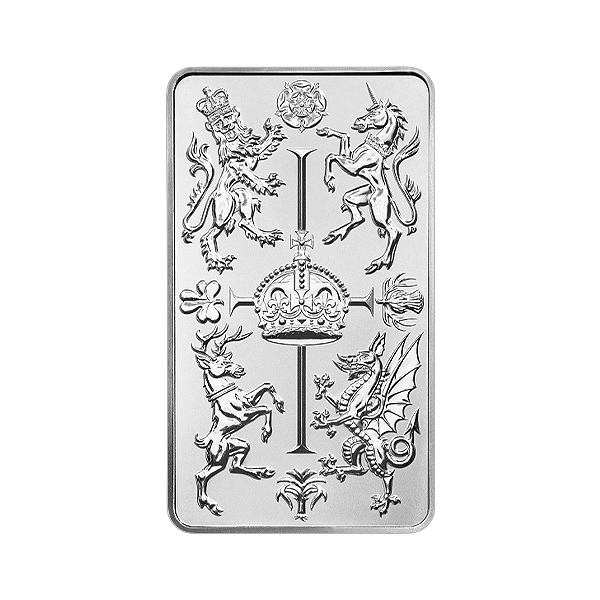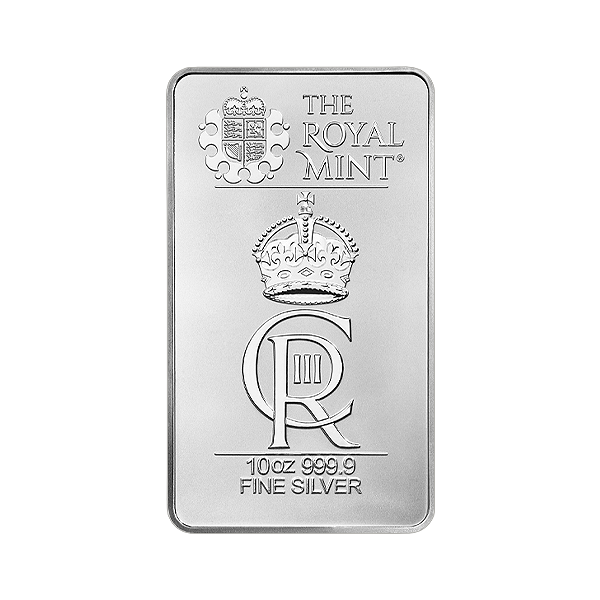 Quantity
ACH/Wire
Credit Card
Specifications
Family:Silver Bars 10 oz

MetalSILVER

CategoryBullion Bars

MintThe Royal Mint

CountryGreat Britain

Weight10 oz

Purity.9999 FINE SILVER

AvailabilityIn Stock
Description
The Royal Mint is releasing a limited series of minted, investment-grade bars to celebrate King Charles III's first anniversary of accession to the British throne.
These bars are manufactured through a minting process using multi-ton hydraulic presses. Immense forces are applied to the raw 10 troy ounce silver "blanks," leaving a beautiful impression of the intricate design.
The obverse side features four heraldic symbols of the United Kingdom, including the Lion of England, the Unicorn of Scotland, the Welsh Dragon, and the Gaelic Stag, all surrounding the Tudor Crown. Other elements, such as the Tudor rose, shamrock, and thistle flower, are present.
The reverse side includes The Royal Mint's logo, King Charles III's royal cypher topped with the Tudor Crown, and markings 10 oz and 999.9 FINE SILVER for the bar's weight and purity.
Each silver bar contains 10 troy ounces of 99.99% pure silver and arrives in a protective plastic pouch.
Limited mintage of only 6,000 bars.
Order your 10 oz Silver Bar – The Royal Celebration today!
Product Name
Item added to cart
Unit Price: *Extended Price: *Cart Subtotal:
*Extended Price for Bank Wire or ACH payments only. Other forms of payment will modify the cost per unit.
Volume Pricing Discount
Quantity
ACH/Wire
Credit Card