10 oz Gold Bar - Various Mints (with Assay)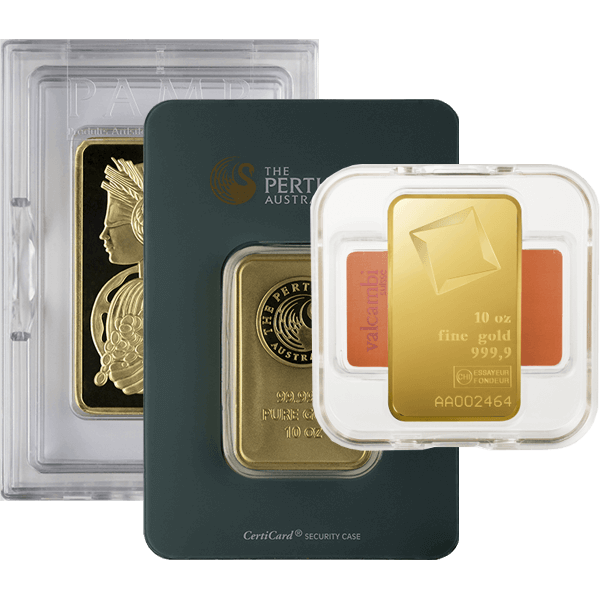 Quantity
ACH/Wire
Credit Card
1 - 2
$19,731.00
$20,990.43
Specifications
Family:Gold Bars 10 oz

MetalGOLD

CategoryBullion Bars

MintVarious

CountryVarious

Weight10 oz

Purity.9999 FINE GOLD

AvailabilityOut Of Stock
Description
Gold bullion has an undeniable allure, fascinating civilizations around the world for millennia. Gold was a medium of exchange until very recent history, used by society to settle economic transactions and pay debts. Today gold is no longer circulated as currency in any meaningful way but rather is treated as a store of value and held as a safe-haven investment. While 1 oz gold bars are the most popular gold bar offering, investors can acquire 10 oz gold bars for relatively low premiums, and 10 oz gold bars are still easy to liquidate should the need arise.
10 oz gold bars from the secondary market come with assay and arrive in either loose form or sealed card. Each bar's design and condition will vary. The obverse side of the bar will include the mint logo and hallmarks, and typically a serial number. The reverse side usually contains a repeating logo pattern or is left blank. We verify and test each 10 oz gold bar on-site and guarantee for weight and .9999 purity.
Order your 10 Oz Gold Bar - Various Mints (with Assay) today!
Product Name
Item added to cart
Unit Price: *Extended Price: *Cart Subtotal:
*Extended Price for Bank Wire or ACH payments only. Other forms of payment will modify the cost per unit.
Volume Pricing Discount
Quantity
ACH/Wire
Credit Card