$10 Indian Gold Eagle Coin BU (Random Year)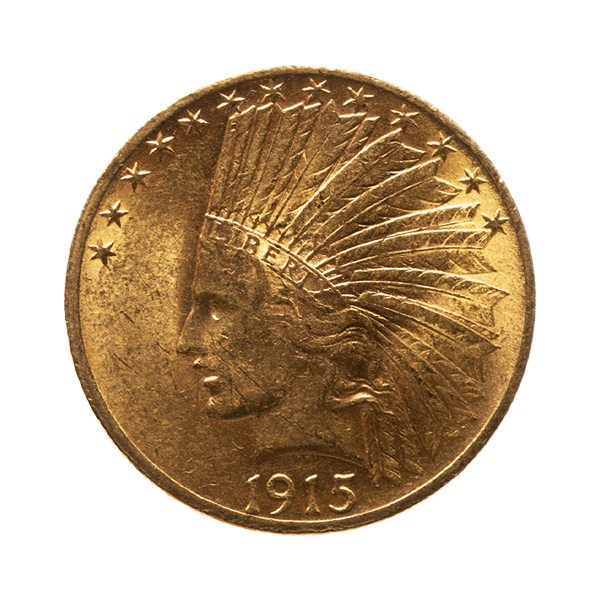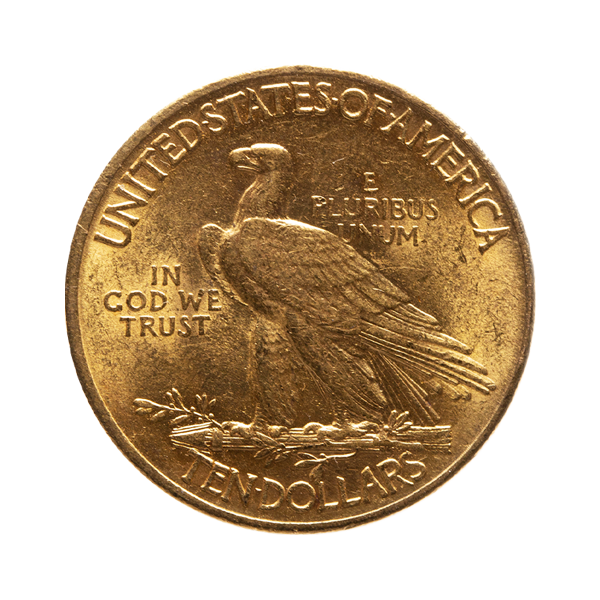 Quantity
ACH/Wire
Credit Card
10 - 19
$1,234.37
$1,313.16
Specifications
Family:Pre 1933 Gold

MetalGOLD

CategoryBullion Coins

MintUS Mint

CountryAmerican

Weight0.4837 oz

Purity.900 FINE GOLD

AvailabilityOut Of Stock
Description
The eagle was a $10 gold coin that the United States Mint produced all the way from 1792 through 1933. The coin experienced multiple redesigns, with the final design, the Indian Head, entering production in 1907. Minting of US gold coinage, which included the eagle, ended in 1933 under Franklin Delano Roosevelt's abolishment of private gold ownership in the United States.
Both sides of this coin were designed by legendary US Mint sculptor Augustus Saint-Gaudens, who unfortunately didn't live to see the final creation. The obverse side features the left-facing side portrait of Lady Liberty adorned with an Indian feather headdress. LIBERTY is stamped on the headdress, and the year of issue is presented at the bottom, with 13 stars included around the perimeter of the top half of the field.
The reverse side illustrates an American Bald Eagle standing on a bundle of arrows, with E PLURIBUS UNUM just over its wing. UNITED STATES OF AMERICA and TEN DOLLARS are stamped around the field's perimeter.
Each year of issue after 1907 included the motto IN GOD WE TRUST, on the left side of the field. The 1907 and certain 1908 issues controversially omitted the motto.
The Indian Head is struck from 90% gold (10% balance in copper) and contains 0.48375 troy ounces of pure gold.
We verify and test each $10 Indian Gold Eagle on-site for weight and purity. Coins from this lot arrive in Brilliant Uncirculated (BU) condition but may exhibit signs of handling and wear in line with low-end, mint-state grades. $10 Indian Gold Eagles from this order will be dated between 1907 and 1933.
Order your $10 Indian Gold Eagle Coin BU (Random Year) today!
Product Name
Item added to cart
Unit Price: *Extended Price: *Cart Subtotal:
*Extended Price for Bank Wire or ACH payments only. Other forms of payment will modify the cost per unit.
Volume Pricing Discount
Quantity
ACH/Wire
Credit Card