1 oz Silver Round – Engelhard Prospector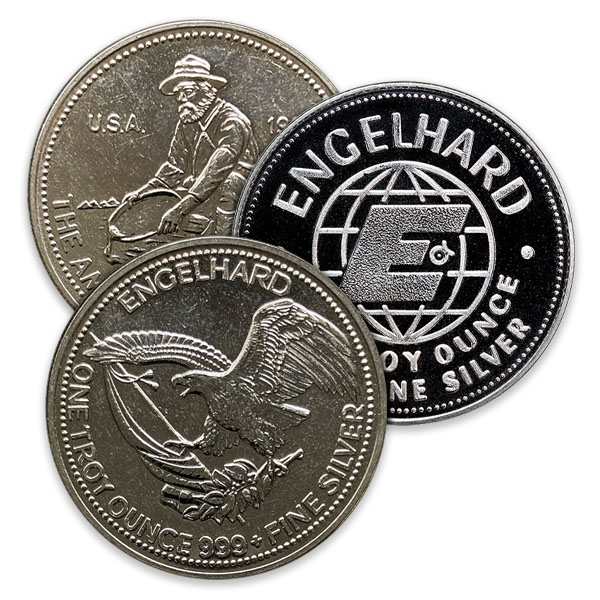 Quantity
ACH/Wire
Credit Card
Specifications
Family:Silver Rounds 1 oz

MetalSILVER

CategoryBullion Rounds

MintEngelhard

CountryAmerican

Weight1 oz

Purity.999 FINE SILVER

AvailabilityIn Stock
Description
Engelhard's precious metals refining business closed shop over 35 years ago, ending all retail bullion production for the industry titan. And while most defunct refiners fade into history, Engelhard still commands industrywide respect for their unmatched quality and reputation.
From 1982 through 1987, Engelhard produced these highly collectible American Prospector silver rounds. Each round is comprised of 1 troy ounce of 99.9% pure silver.
The obverse side features an "old timer" prospecting for gold in a rushing river. The prospector utilizes a gold pan to separate dirt and other material from fine bits of gold. Hobby miners and professional outfits alike still use this crude method today to extract and locate gold-rich deposits. THE AMERICAN PROSPECTOR is stamped around the perimeter with U.S.A. and the year of issue included in the field.
Two reverse designs were produced throughout the years, including the soaring eagle and the Engelhard E logo. ENGELHARD and ONE TROY OUNCE 999+ FINE SILVER are stamped around the perimeter on both designs.
1 oz Silver Round – Engelhard Prospectors from this lot are dated between 1982 and 1987 and will arrive in varied condition.
Engelhard Corporation was founded in 1902 and, at one point, became the world's largest precious metals refiner. Over its history, Engelhard produced millions of gold, silver, platinum, and palladium bullion pieces, of which the surviving specimens still trade hands daily on the secondary market. Engelhard shuttered its precious metals line in the late 1980s and was wholly acquired by German chemicals company BASF in 2006.
Order your 1 oz Silver Round – Engelhard Prospector today!
Product Name
Item added to cart
Unit Price: *Extended Price: *Cart Subtotal:
*Extended Price for Bank Wire or ACH payments only. Other forms of payment will modify the cost per unit.
Volume Pricing Discount
Quantity
ACH/Wire
Credit Card