American Silver Eagle Monster Box of 500 Coins (Sealed)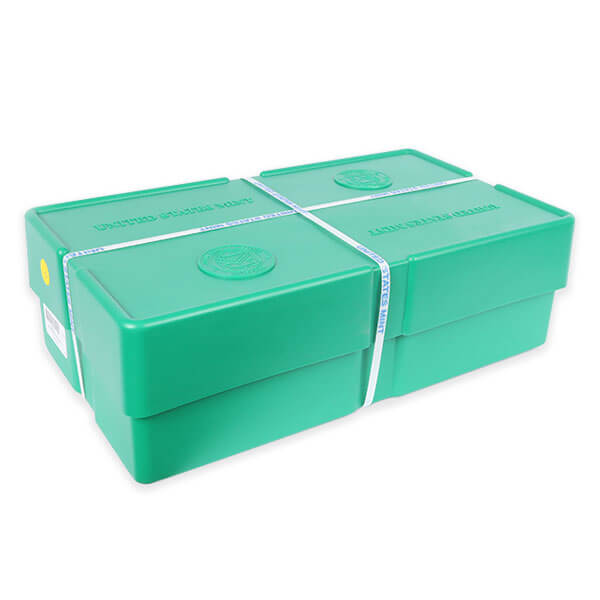 Quantity
ACH/Wire
Credit Card
Specifications
Family:American Silver Eagle

MetalSILVER

CategoryBullion Coins

MintUS Mint

CountryAmerican

Weight500 oz

Purity.999 FINE SILVER

AvailabilityIn Stock
Description
The American Silver Eagle from the US Mint is arguably the most recognized silver bullion coin on the planet. First released in 1986 to monumental acclaim, the American Silver Eagle's universal appreciation has made it the standard investment-grade silver coin worldwide.
Millions of Brilliant Uncirculated (BU) American Silver Eagles are struck from 99.9% pure silver annually. The American Silver Eagle is $1 US legal tender, and its weight and purity are guaranteed by the US Government.
The sealed Monster Box is the standard delivery method for the American Silver Eagle. The US Mint fills each Monster Box with 25 tubes of 20 American Silver Eagles for a total of 500 coins and seals in-house. When you want silver coins delivered in bulk, this is where you turn.
Taking possession of a green Monster Box is a lifetime goal for many precious metal investors, and you can reach that goal today!
These mint-sealed boxes contain either new-issue American Silver Eagles or random year backdates, but all 500 coins are guaranteed to be from the same year.
Order your American Silver Eagle Monster Box of 500 Coins (Sealed) today!
Product Name
Item added to cart
Unit Price: *Extended Price: *Cart Subtotal:
*Extended Price for Bank Wire or ACH payments only. Other forms of payment will modify the cost per unit.
Volume Pricing Discount
Quantity
ACH/Wire
Credit Card