1 oz American Platinum Eagle Coin (Random Year)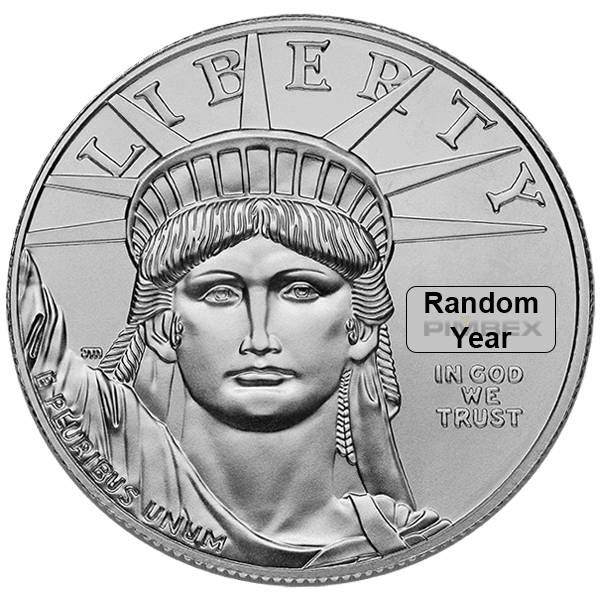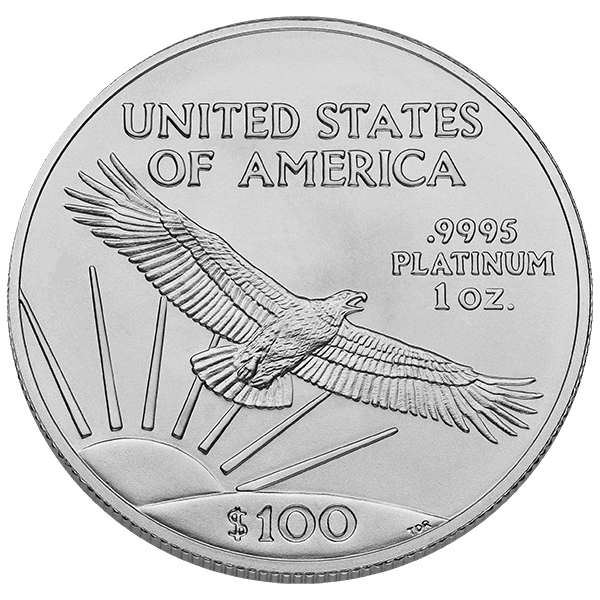 Quantity
ACH/Wire
Credit Card
10 - 19
$1,082.48
$1,151.57
Specifications
Family:American Platinum Eagle

MetalPLATINUM

CategoryBullion Coins

MintUS Mint

CountryAmerican

Weight1 oz

Purity.9995 FINE PLATINUM

AvailabilityIn Stock
Description
The American Platinum Eagle bullion coin is a premium platinum offering from the US Mint and cherished by retail investors worldwide.
The 1 oz American Platinum Eagle was released to the public in 1997, accompanied by a family of fractional Platinum Eagles bullion coins in ½ oz ($50), ¼ oz ($25), and 1/10 oz ($10) weights, similar to the American Gold Eagle series. Due to shifting demands, the US Mint ceased production of all American Platinum Eagles in 2008 but later resumed minting solely the 1 oz variety in 2014. Since reintroduction, the 1 oz American Platinum Eagle is produced in modest mintages, and demand regularly overwhelms US Mint supply.
The obverse design of "Liberty Looking to the Future" by then sculptor and later US Mint Chief Engraver John Mercanti features a close-up shot of Lady Liberty's face staring boldly into the distance. The word LIBERTY is inscribed over Liberty's head, and the year of issue and motto's In God We Trust and E Pluribus Unum are included.
The reverse side of the American Platinum Eagle features an American Bald eagle flying over a sunrise, with UNITED STATES OF AMERICA inscribed overhead. Hallmarks denoting the .9995 purity, 1 troy oz weight and the $100 denomination are also marked. The 1 oz American Platinum Eagle is fully backed by the US Mint for weight, content, and purity.
We verify and test each 1 oz American Platinum Eagle Coin (Random Year) on-site for weight and purity. Secondary market coins will arrive in varied conditions and may exhibit signs of handling and wear. Coins from this order will be chosen from Random Dates.
Order your 1 oz American Platinum Eagle Coin (Random Year) today!
Product Name
Item added to cart
Unit Price: *Extended Price: *Cart Subtotal:
*Extended Price for Bank Wire or ACH payments only. Other forms of payment will modify the cost per unit.
Volume Pricing Discount
Quantity
ACH/Wire
Credit Card